Opportunity
In 2021, a leading disability support services organisation were required to transition staff across to a new NDIS reporting structure.
The challenge was to inform relevant team members of the NDIS-led changes and clearly communicate what it meant for their specific roles. All while providing a supportive environment where staff felt informed and trained on how to deliver these new requirements within their everyday roles.
Our approach
With a minimal budget and fast turnaround required, we created a strategic approach focused on:
Introduction:

What it is
What we need from you
How we'll help you get there

Teach and train:

What you need to do
How you can do it
Support and celebrate:

Who can help you
You did it, thank you!
Each part delivered primary and secondary key messages with a strategic approach to communicating.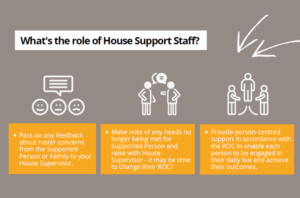 The messages were complex, so it was important to communicate them in a fun and simple way.
CEO
Disability Support Provider