Opportunity
City of Casey is the largest Council in Victoria, with the local population doubling in size during the past 20 years and predictions it will double again in the next 20.
With 1,500 staff providing services to the local community, a major relocation project was underway – moving all employees into Bunjil Place, a new state of the art facility.
The leadership team were seeking a campaign to capture the attention of staff and bring a positive vibe during upcoming change.
Our approach
Understanding the complexities that come with whole of business change, alongside the typical conservative approach of local government, we created two concepts:
a beige version that met the brief
a bold version that we are certain Richard Branson would champion!
Both were presented in a storytelling format, so our clients could get a strong sense of the concept.
We saved the alignment between the creative and Council's strategic focus until the end – so the discussion was primarily around what the concept made you feel.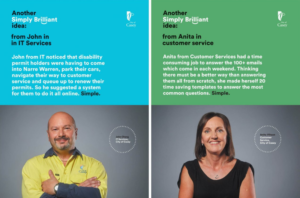 Internal engagement is fundamental for every business, if it's done effectively!

Renae Hanvin
Founder + Director at Resilient Ready